Innovative Solutions continue to gain high retention rates.
CONGRATULATIONS to the Cairns First Steppers who have just completed their first 6 months in employment with Coles Supermarkets.
First Steps is an Indigenous employment program that Innovative Solutions Australia run in partnership with Coles.
Over the last 6 months, we have seen bravery and some damn hard work from the crew and each of them deserve the rewards they are achieving.
Congrats also to the Coles team . . . they have been absolutely amazing in their efforts to support their new team members. We are privileged to work with such a committed and genuine team.
86.6% of our program participants remained in employment for the 6 months.
Well done all!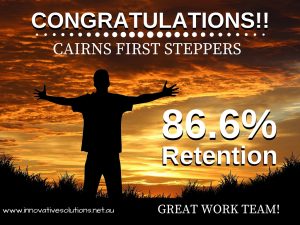 © 2016 Innovative Solutions Australia